Tips to help you become Telegram-savvy (1)
Telegram is one of the most popular and widely used instant messaging apps. With end-to-end encryption, self-destructing messages, and a slew of other features, Telegram is quickly becoming a favorite among those who prefer privacy and security in their communications.

Let's explore some cool tips and tricks to help you get the most out of your Telegram experience.

1. Hide your "last seen" status from selected contacts

When the "last seen" function was first created, I remember my friends being equal parts elated and agonized. On one hand, you could finally see when a friend was last online, and find out if he was just asleep, or simply ignoring you. On the other hand, other people could do the same to you. 

Telegram has finally done it. No more switching apps to pretend you haven't read the message yet. The best part about this function is that it does not disable your "last seen" entirely, but only for the contacts you select.

First, go to Settings > Privacy & Security.

Then, click "Last Seen" and select an option under "Who Can See My Timestamp".

Now, you can disable last seen from specific contacts. Click "Never Share With" and select contacts.
2. Send mute message

Getting a lot of message notifications can be really annoying, especially if you're busy with work. If you have a stressed out friend and you don't want to be alarmed with too many message alerts, you can still send messages to them to your friends without all the distractions.

All you have to do is take advantage of the mute message feature - your message will be sent normally in real time, but it won't reach them via a buzz or notification sound. Here's how to send a mute message:

After selecting a user, for Android users, type a message, press and hold the send arrow, and select Send without sound.

For iOS users, type a message and then press and hold the send arrow. This will allow you to send the message without sound.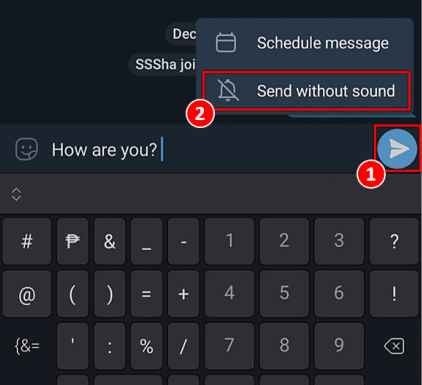 3. Schedule messages

Telegram also allows you to schedule messages. This is great for birthdays, but also for situations where you don't want to bother your friends at work.

To send a scheduled message, type it in the text space, press and hold the send arrow, and select Schedule message. Then, select the date and time to send it.

After scheduling a message, your conversation will have an additional icon where you can access the message to be sent. If you want to add more scheduled messages, just press and hold this icon to pull them out.

You can even customize the look of your phone to follow along day and night to remind yourself of loved ones in different time zones. Under Appearance, you can turn on automatic night mode and set the time zone and color theme you want to follow.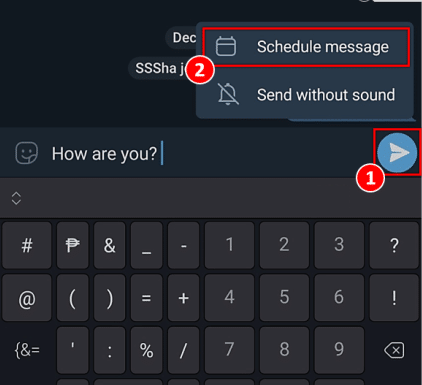 4. Bots

Telegram has concise bot options. You can have them perform specific actions to make your Telegram experience smoother.

For example, @stickers is a bot that allows you to create stickers.

@imagebot will find different images for you based on keywords.

@storebot will detect new bots.