Data Extraction Service
Internet is the world's largest and ever-growing information resource bank. However, most information exists in the form of non-structural or semi-structural text, which makes it very difficult to integrate and utilize information from different sources. Submit your requirement to us.
Introduction
Web data mining, or web data extraction, is a process of picking some data from target web pages to form a uniform local database. Such data originally exist on visible web pages in form of text and can only be read by us but not processed by programs.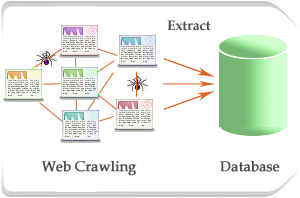 Integration of data from different websites
A complex data extraction process needs to deal with various barriers, e.g. conversation identification, HTML form, client Java script and data integration issues such as data loss and duplication.
Web2DB is a novel Web data extraction service provided by Knowlesys. It makes things easy. It includes two types of service:
♦ Web2DB direct data service
♦ Web2DB customized extractor software service.
All you need to do is to tell us what data you want to search, what you want to get and which formats you want the data in, and we will do everything for you and send you the data straightforward. The data can be in such formats as Excel, Access, CSV, Text, MS SQL and My SQL. We can tailor the extraction software to your target website which you can run at your computer at any time.
Many SMEs and websites have immediately benefit from our services or customized software.
You can use our service to the following areas:
♦ create your list of prospective clients
♦ collect product price information from your competitors
♦ capture news
♦ establish your own product list
♦ integrate real estate information
♦ collect financial situations and data about listed companies
♦ ....
Advantages
Simple: you do not need additional software. Just tell us what you need and what your target website is, then you can directly get the database.
Flexible: you can access any data from any website, especially those on dynamic websites.
Fast: generally, you can get the data you want within 24-72 hours of your payment. For massive data, we can make it within one or two weeks.
Precise: each column of the extraction result is what you need, nothing more and nothing less. We will filter and verify the data according to your requirements.
Cheap: you pay just for the data you want rather than the expensive machines and software. You need not learn how to use software or spend your precious time in running software. Action Now