How to hide phone numbers in Telegram?
Millions of people use Telegram every day, and most of them use it publicly without hiding their phone numbers. But some people want to use it anonymously without letting anyone know their phone number, because hiding it in their Telegram account makes them more secure.

There can be a small change in the interface otherwise the steps are the same for Telegram mobile app (Android and iOS) and the Telegram desktop app. In this article, we are making use of an Android device.

Selecting Nobody

By default, the Telegram settings are set so that only your Contacts are able to see your phone number and no one else. But there can be many personal reasons to hide the phone number from the people in the contact list too. Keeping this in mind, here are the steps to do that.

1. Launch the Telegram app on your device and tap on the hamburger icon at the top left of the screen.

2. Now tap on the Settings option given just below the Invite Friends option. (In the case of an iPhone, the Settings option is available at the bottom right corner.)

3. Under the Settings heading, select the Privacy and Security option.

4. After that, tap on the Phone Number option available under Privacy.

5. Now, under Who Can See My Phone Number? select Nobody and tap on the tick icon.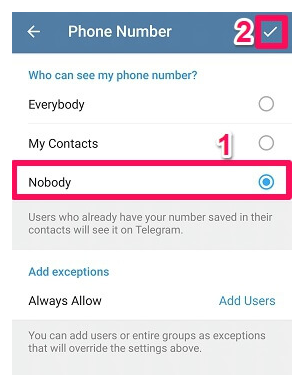 Adding Exceptions

There might be some people with whom you might not have any problem sharing the phone number. For those near and dear ones, you use the exception feature.

1. Tap on the Always Allow option under the Add exceptions heading.

2. Select as many users from the contact list as you want and tap on the tick icon.

Adding more people to exception or removing the few of the existing ones is also possible with these steps.

1. Again tap on the Always Allow, Tap on the three-dots adjacent to the contact added and select Delete to remove the contact.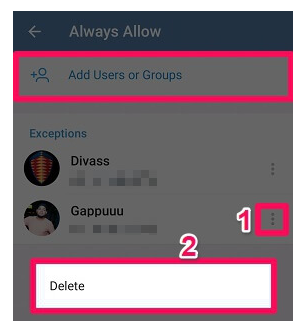 2. For adding more people to the exception, simply tap on the Add Users or Groups and repeat the 2nd step above.