How to analyze keywords on Twitter?
Former Brazilian football star Pelé, three-time World Cup champion, died on 29 December 2022 at the age of 82 in Sao Paulo, victim of colon cancer. Pelé's funeral began at Vila Belmiro stadium in Santos on 2 January 2023. Thousands of fans flooded the streets to attend the first day of the funeral service, with some in attendance claiming that they had to wait three hours in line. The event has attracted widespread attention around the world.
In the past 7 days, nearly 7,700 pieces of tweets with the keyword "Pelé" were fetched and analyzed by Knowlesys Intelligence System. Among them, the count of tweets on 3 January 2023 was the largest for the public wake continued to 3 January, and saw more than 230,000 people in attendance.

It can also fetch which tweets have broad influence over the public from "Influence Messages" in order to learn the public's opinions. For example, some top favorite messages, top retweeted messages, top mentioned links and so on.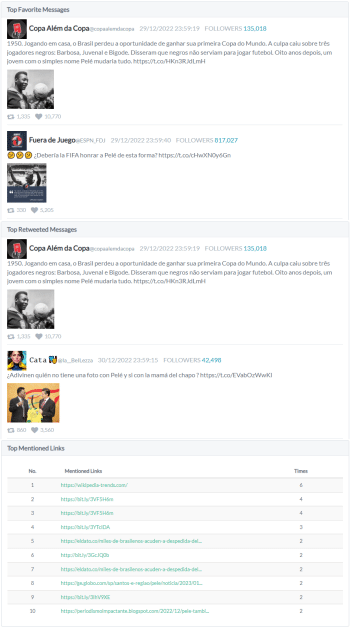 Knowlesys Intelligence System, a professional public opinion monitoring system. The company is at the world's leading level in the field of network information collection. With years of experience, it has analyzed and processed thousands of websites and has unique experience in social media information collection.