Why blog on LinkedIn?
Blogging is one of the best ways to showcase your expertise and promote your business. It's a great way to connect with your target audience and keep them engaged with your work, build strong relationships with them and effectively convert them into loyal customers. If you blog on your website, you can reach people everywhere through search engines. What if you could use LinkedIn to write a blog and specifically target users on that site?

If you already run a blog, then you surely know all the amazing benefits of blogging. Whether you're just starting out or looking for ways to expand your reach beyond your blog, posting content on LinkedIn is definitely one of the smartest steps you can take, especially if you're considering creating a blog that you can set up immediately for free.

Why blog on LinkedIn?

Blogging on LinkedIn can actually attract more readers to your blog. According to LinkedIn statistics from January 2023, LinkedIn has more than 900 million users, 49 million of whom are active on the platform each week. These numbers speak volumes about the exposure and reach you can gain if you make the effort to blog on LinkedIn.

And it's completely free to post on the platform. You don't have to buy a domain name, pay for advertising or run any other campaigns to increase your exposure - all you have to do is sign up for an account and start sharing content and making connections.

LinkedIn users are always looking for more information related to their industry or niche, so you have the opportunity to show them what you know and position yourself as an authority in your field. LinkedIn is all about building relationships, and you can build strong and meaningful relationships by providing connections that have real value. You can build credibility and trust, and connect with other bloggers in your field, opening the door to more opportunities for your business growth.

Now you can post content directly to LinkedIn just as you would on a blogging platform, but you can also share your blog posts. This means you can use LinkedIn to increase lead generation traffic to your blog.

You can attract a lot of people who are interested in what you have to say, and after reading some quality posts on the platform, they will have to check out your blog and learn more about you. Your contacts will be notified every time you publish a new post, so they will never miss your great content.

Plus, on LinkedIn, sharing is caring. If your contacts find your posts relevant and interesting, they will share your posts with their audience, helping you further expand your reach. Then, their contacts will read and share them and head to your blog. That's why using LinkedIn as a blogging platform is an opportunity you shouldn't miss.

What is LinkedIn Pulse?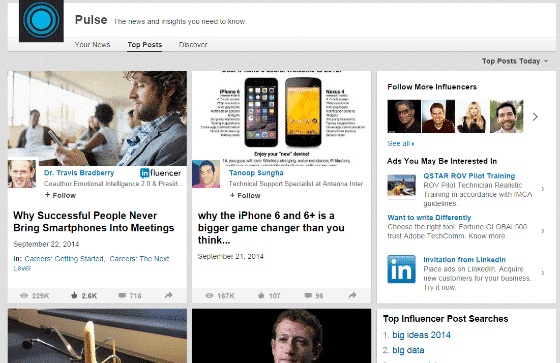 LinkedIn Pulse is LinkedIn's publishing platform where you can write new posts directly on LinkedIn. The beauty of it is that your Pulse posts can be featured in the platform's daily or weekly news, so you can get your name out there and boost your credibility and reputation.

There is a specific editorial team that can choose which LinkedIn articles will appear in the news. They choose content that they think is relevant and engaging in order to provide users with the value they need.

You'll no doubt notice that the daily news you see in your LinkedIn news feed is tailored to you. You'll also receive notifications about the latest industry news or mentions of your contacts in the news, as well as notifications about their new posts. Your contacts will also receive notifications when you post content on LinkedIn Pulse, never missing anything from you.

But how do you get your posts to appear in Pulse News? You don't have to do anything but post high-quality articles on LinkedIn to grab the attention of Pulse editors, entice them to share your content on the platform, and help you get the attention of the thousands of people who follow you and connect with you on LinkedIn, not to mention visit your blog.

Since Pulse editors choose the articles they post on the platform based on their quality, you don't need to be very well known in your industry or niche to get your voice heard. All you need to do is create great content that stands out.