WhatsApp open source intelligence investigation method (1)
WhatsApp is the world's largest instant messaging software. With more than 2 billion users, WhatsApp covers more than 180 countries and is among the most used instant messaging apps in 58 countries. Therefore, Whatsapp has information relevant to more than a quarter of the world's population.

As a messaging app rather than a social media platform, WhatsApp offers limited information gathering opportunities. However, there are a few techniques that can be used to gain insight into survey respondents through the platform.

Identify the phone number registered on WhatsApp

The most common way to check if a phone number has an associated WhatsApp account is to add it to your phone's contact list. WhatsApp uses the WhatsApp contact list and the native contact list to identify registered app users with users from other platforms.

But this method is not perfect. Because some mobile apps may have previously collected contact lists and sold them to data aggregators. Some cell phone lookup providers like https://sync.me/ and open source intelligence providers like PIPL may tag names saved in the contact list as phone numbers in their public records. Adding a contact to your phone may also inadvertently add it to your LinkedIn contacts list instead of WhatsApp.

In addition, it is possible to make the URL query the WhatsApp API to check if a phone number is registered for a WhatsApp account without adding it to your phone contacts.

If opened in a web browser, you can use the following URL, replacing "NUMBER" with the target phone number: https://api.whatsapp.com/send/?phone =NUMBER or https://wa.me/NUMBER Then go to the page.

Clicking on the "Continue To Chat" button will redirect you to a web page where you can select a hyperlink "use WhatsApp Web".

If the phone number is registered with WhatsApp, a blank chat window will open. If the phone number is not registered, you will receive a message saying " Phone number shared via url is invalid".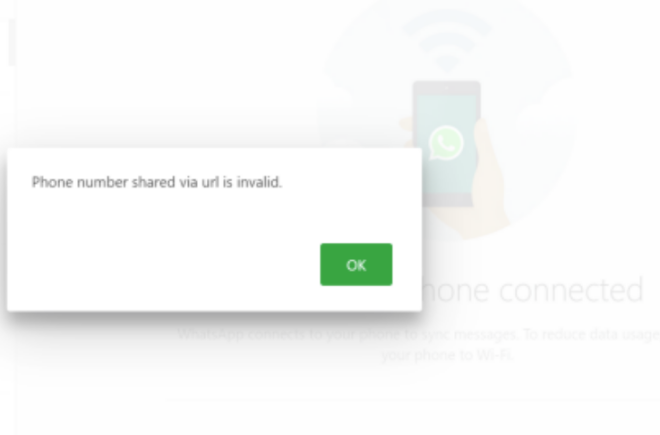 The process is similar if the check is done on the phone.

Entering the phone number in the URL, https://api.whatsapp.com/send/?phone = NUMBER or https://wa.me/NUMBER will direct you to a web page containing a button labeled "Continue To Chat". Opening this button will open a new chat window if the phone number is associated with an account.

If the number is not registered, a message will appear saying "The phone number isn't on WhatsApp".