What is TikTok Analytics?
TikTok Analytics is a special tool designed to help creators and businesses track the metrics of their content. It allows insight into useful data such as changes in the number of followers, profile overviews and video analytics.

You can track how your videos are performing compared to your competitors or how many new followers you receive after posting a new video. TikTok Analytics is a must-have tool for marketers or anyone who wants to have an impact on this social media network.

You can access four types of data in TikTok Analytics: account overview, content insights, follower insights, and live overview.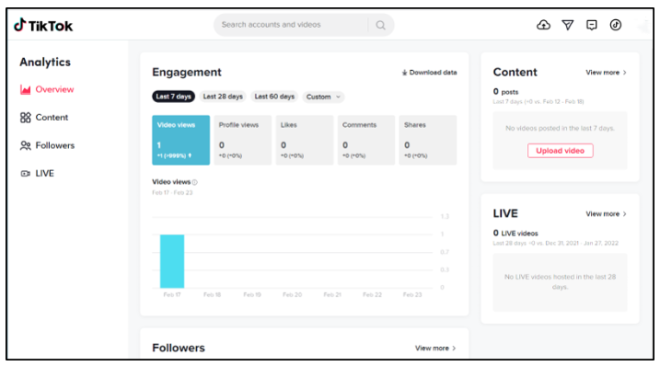 Profile Overview Analytics

In this section, you will be able to track the number of views and followers of your videos and profiles. You can view data for the last 7 or 28 days here.

If you want to see how many times your video has been watched in a given time frame, you can do this at the top of the Overview tab. Below it, you will see the total number of followers for the same period. This part is crucial to identify sudden traffic increases caused by specific video posts.

For example, you can see that your video post from last Friday led to an increase in the number of followers for that day. This gives you insight into how engaged your content is and which video types should be produced more (or less).

Content Insights

In this section, you can track your video performance. You'll gain insight into which content is the most engaging or most popular. Please note that in the Video Views section, you can only see data for the most recent content posted in the last 7 days. You can see metrics for videos posted 7 days ago in the " Trending Videos " section.

When you click on each video in the "Video Views" or " Trending Videos" section, you will see details such as number of shares, average time spent watching the video, type of traffic source, etc.

Another way to access old video analytics:

1. Go to your TikTok profile and find the video whose analytics you want to display.

2. Click the three dots next to it.

3. Select the "Analytics" option.

Followers Insights

In this section, you can learn more about the demographics and gender of your followers. You can view the number of followers gained (or lost) in the past week. If you want to see the gender distribution of your followers, you can do so in the "Gender" section. You will also see a " Top territories" list, which shows the five countries where people interact the most with your content.

Another (if not the most useful) section of the "Followers" tab is " Follower Activity". Here you can track your followers' activity by hour and by day. These metrics are essential to help you schedule future content for maximum engagement.

Note: To access the "Followers" section, you need to have at least 100 followers.

What do marketers need to know about TikTok?

If you're a marketer looking to promote your product or brand on TikTok, you should start using Analytics right away, no matter what industry you're in.

For example, if you sell hair products to women in the United States, you can track your campaigns through TikTok Analytics. If the majority of your engagement comes from men living in Canada, you know it's time to rebuild your marketing strategy.

Every detail of the metrics you find on your analytics page can help you get better results. For example, knowing which types of content receive the most responses or views will help you better understand your audience's needs.