What is "Link in Bio" on Instagram?
Maintaining a good social media presence is an important part of online marketing. Instagram has become more than just a comfortable place to view pictures and text your friends. Business owners are taking this opportunity to turn temporary Instagram users into customers.

They use many methods to promote their brand and build a name for themselves. Some of these methods have led to new conventions and ways of using Instagram. For example, the trend of posting "link in bio" is closely related to self-promotion.

What is " Link in Bio" on Instagram?

When someone says " link in bio" in an Instagram post, it's a call to action for the customer. It invites you to visit their profile and view their biography, which contains a URL that leads you to an external website.

Instagram has a specific policy about posting links that may cause users to leave its site or app. Even if you can post a link in a regular post, users will not be able to click on that URL.

In other words, they will have to copy and paste the link or open another window in their browser and type the entire content. Since ad space on Instagram is free, it makes sense that they decided to limit it.

The link in your bio is the only clickable link.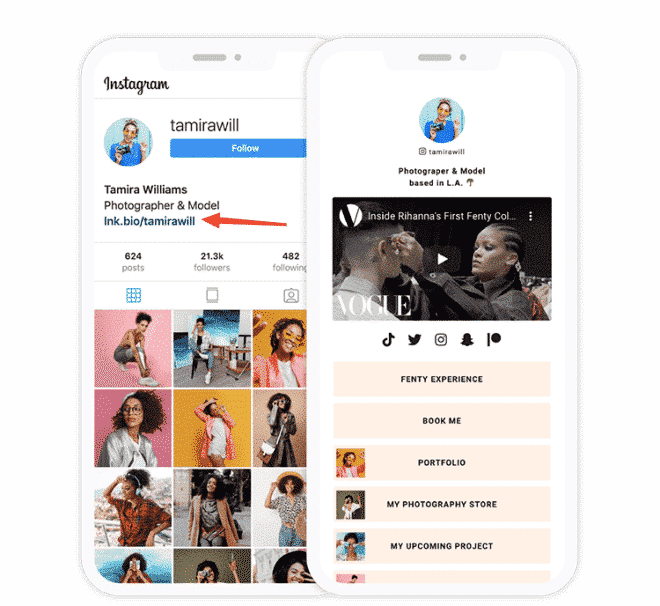 Only one link per user in the bio

Many influencers and companies on Instagram refer you to the link in their profile in their posts. They use it to promote their latest products or services. But you can only use one link on your bio page, so you better make it work.

Your Instagram profile can only contain a maximum of 150 characters, so use your words wisely.

How to use your Instagram profile link?

Since you only have one clickable URL on your bio, you should make the most of it. Once you've got your customers' attention, you should try to build loyalty so they come back for more.

Here are some ideas for your bio link:

- Add links to your best products. If the product is already popular, then it makes sense to put the site in your bio. Choose something that fascinates people, and then your customers will be inspired to browse the rest of what you have to offer. Then, design your site so that users will enjoy exploring your other products or services.

- Make promotions for new products or great sales. Use social media hype to boost your sales. Remember to mention discounts and possibly give promo codes.

- Offer free samples of your products to people, or host giveaways. Free stuff always attracts more customers, especially if there is a time limit.

- Let your followers know who you are. You can set up links to your about page and bring them closer to you.

- Invite people to watch your videos, read your blog or listen to your podcast. You can use any of these formats to really connect with your audience. Remember, no one likes blatant and generic advertising, but people like to discover quality content.