Tool to monitor the activity of Whatsapp contacts
Tool link: https://github.com/rizwansoaib/whatsapp-monitor

WhatsApp-Monitor is a Java-based tool that can be installed via an executable file and paired with WhatsApp profiles in Windows, Debian and Mac operating systems. Also, it can be used as Google Chrome Extension or Mozilla Firefox Add-on. In addition, the tool can provide cross-platform notifications on Android and iOS mobile operating systems.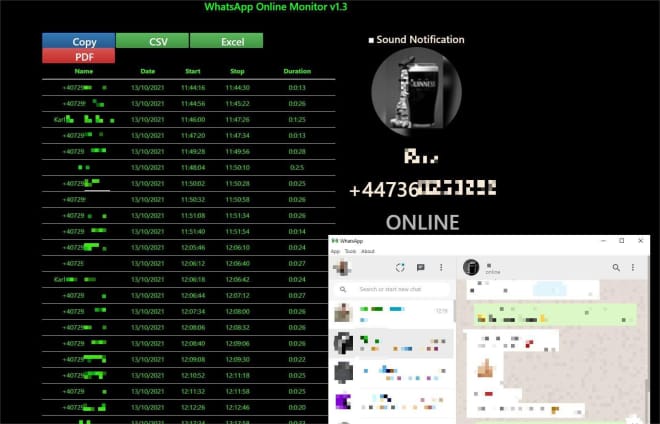 What does this tool do?

In short, it is designed to record the session activity and duration of your WhatsApp contacts and allows you to monitor when they are online. Going a step further, the tool can export activity logs as a csv, MS Excel file or PDF. The tool itself has no practical limit on the number of user sessions it can record and will continue to run as long as your device is connected to the tool.

Deploying the tool is very easy. The tool itself can be downloaded from a single executable file and installed on your operating system. Once installed, users can pair their devices with it by scanning a unique QR code. By simply performing a capture session, the tool can record the date and time of each time a contact comes online.

Overall, WhatsApp-Monitor is a nifty tool that does exactly what is expected of it.

However, you will no doubt ask what it can be used for. Unfortunately, we can only identify a few use cases where this tool can be considered of any use. For example, if digital investigators use disposable phones to connect to their targets, then this tool would certainly be useful in recording the activity of the same target. Or, if a mobile device has been formally seized, then this tool could also be used to expand the scope of the investigation.

Beyond that, it is important to emphasize that the tool has only one function. However, we are confident that it would greatly benefit from integrated analytics features that would allow digital investigators to visualize the activity happening on WhatsApp.