Most popular TikTok creators
Related: Analysis of TikTok global users

In terms of the age of TikTok creators, there are more young people. Young (18-24 years old) creators account for more than half (52.83%). And the percentage of those under 18 is relatively low at 27.47%.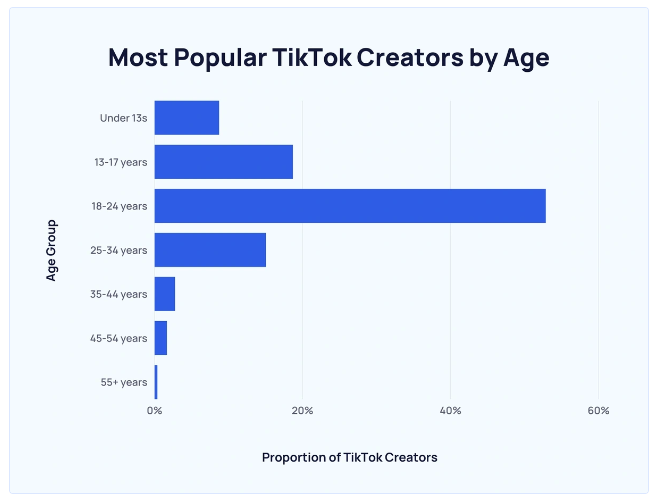 As of January 2023, Khabane Lame is the most followed TikTok creator, with over 150 million followers.

At the time of writing, 18-year-old Charli D'Amelio was the youngest creator to make the top 10.

Zach King (32) is one of only three creators in the top 10 aged 30 or older.

Overall, 10 of the top 15 are at least partially American.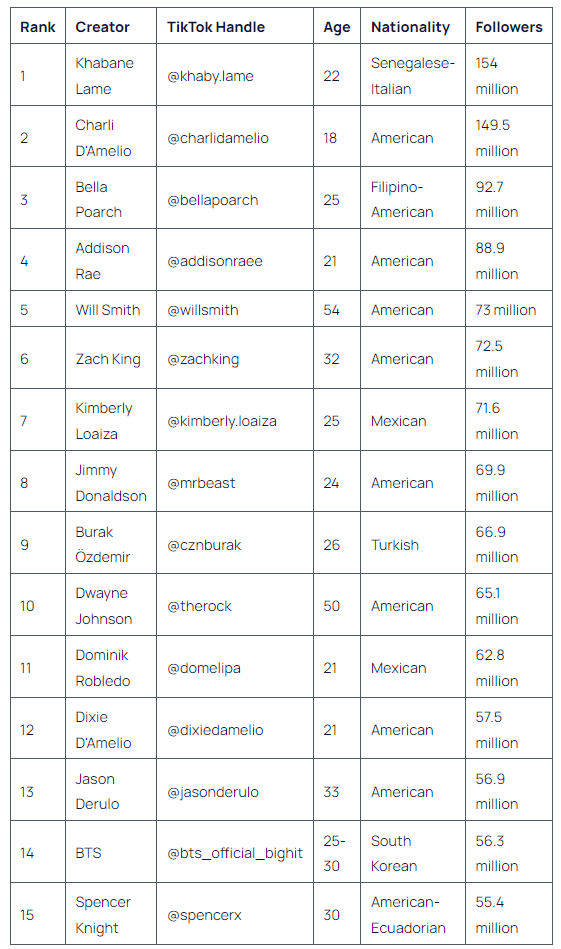 It's fair to say that TikTok's global appeal has penetrated multiple age groups and regions. Nevertheless, there is a clear preference for younger users. The creators are equally young.

From Reels to Shorts: Social video hits the Internet

Between 2021 and 2022, some of the most popular social media platforms have been adding short-form video capabilities in the wake of TikTok's popularity. YouTube Shorts was introduced to the global market in June 2021 and reached 1.5 billion active monthly logins a year after launch. In comparison, Reels, a short-format video format launched by Instagram in August 2020, will be viewed more than regular videos on the platform and liked more than other content types on Instagram between June 2021 and June 2022.

TikTok business model

TikTok is owned by the Beijing-based ByteDance, along with the short-video app Douyin (TikTok's version for the Chinese market), video platform Xigua, and popular news app Toutiao.

While products targeted for consumption in the domestic market operate in the Chinese digital ecosystem and have multiple established monetization methods, such as live shopping events hosted by well-known influencers, TikTok's main source of revenue comes from online advertising. It is estimated that TikTok generated approximately $4 billion in revenue globally through online advertising in 2022.