Analysis of TikTok global users
The popular video sharing platform TikTok is popular worldwide. With more than 1 billion monthly active users as of January 2023, TikTok is one of the most widely used social media platforms in the world.

Approximately 54% of TikTok's total user base is female. In addition, TikTok has become the platform of choice for young people. As of early 2023, TikTok's global user base is comprised primarily of a younger demographic, with 21.5% of TikTok users being female between the ages of 18 and 24.

TikTok audience

Since its launch in 2016, TikTok's audience has grown significantly.

The United States has the largest TikTok audience with over 135 million users by early 2023. That's about 38 percent more users than the second-ranked country, Indonesia, with 99 million users.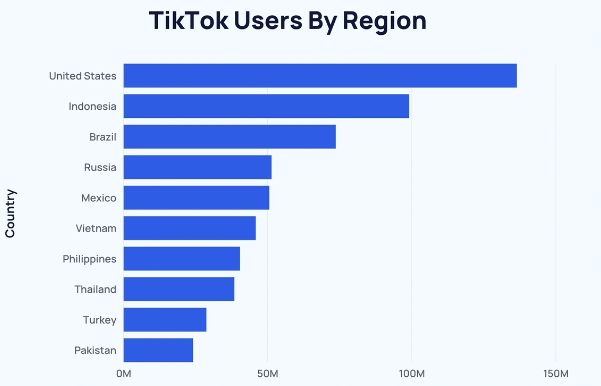 The app has managed to capture the attention of users and keep its base entertaining. So much so that as of the second quarter of 2022, users worldwide spent approximately 95 minutes per day on TikTok, making it the most engaging of the social media apps.

In addition, TikTok has quickly become one of the most popular platforms across different app stores. in September 2022, the video app was downloaded nearly 24 million times on the Google Play store, making it the most downloaded app by Android users worldwide. In comparison, TikTok was the second most downloaded app in the Apple App Store, with approximately 7.5 million downloads from users worldwide that month.



Looking at TikTok penetration by country/region, Saudi Arabia leads the way with about nine in ten (87.9%) people over the age of 18 using the social media app. This is almost six times the global average of 15.9%.

TikTok penetration in the US is now over 50% (50.3%). In total, 14 countries have penetration rates above 50%.