Kia, Hyundai sued by New York City over TikTok car theft challenge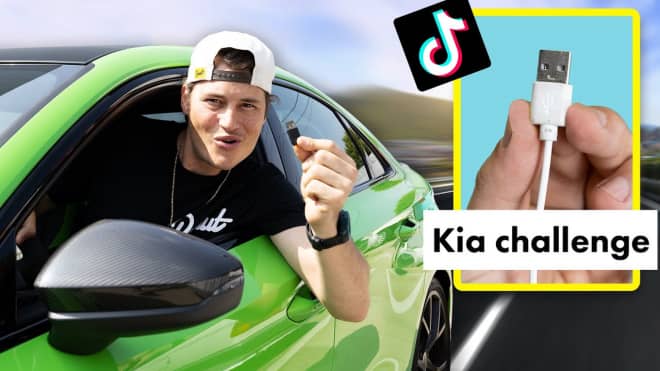 New York City is the latest city to file a lawsuit against Kia and Hyundai over a dramatic increase in stolen vehicles related to the TikTok auto theft challenge that went viral in 2021.

The automakers are accused of failing to install anti-theft devices in most models by 2021, creating an environment ripe for car thieves to figure out how to hot-wire unsecured vehicles using a common screwdriver and USB data cable.

Thieves then posted these instructions on TikTok, leading to the viral and sometimes deadly "Kia Challenge," which essentially encouraged other TikTok users to steal Kia and Hyundai models across the United States.

Court documents filed in Manhattan court on June 6, 2023, allege that Kia and Hyundai thefts spiked after the viral challenges, forcing the New York City Police Department to divert time and money from other pressing law enforcement activities, costing the city and its taxpayers millions of dollars.

Several other U.S. cities, including Baltimore, Cleveland, San Diego, Seattle, St. Louis and Milwaukee, which launched the challenge, have also sued automakers over similar complaints in recent months.

According to the National Highway Traffic Safety Administration (NHTSA), the so-called "Kia Challenge" was started as a prank by a group of teenagers and eventually turned deadly, with at least 14 crashes and eight deaths reported.

The New York City complaint alleges that Kia and Hyundai "created a public nuisance that could have been mitigated or avoided had they followed industry-wide standards and installed immobilizer devices, or an equivalent anti-theft device, in all their vehicles."

The lawsuit alleges that the anti-theft "immobilizer" is believed to be a standard anti-theft feature installed in most other manufactured vehicles during the same time period, especially since all Kia and Hyundai models between 2011 and 2022 were not equipped with it.

The lawsuit accuses the automakers of putting profits ahead of safety, thus forcing New York City to divert funds and risk police safety in response to the growing burden of Hyundai and Kia car theft and reckless driving on city streets.

City officials said the number of Kia and Hyundai car thefts not only doubled in 2022, but also increased six-fold in the first four months of 2023 over the same period last year, from 148 to 977.

By contrast, thefts from BMW, Ford, Honda, Mercedes, Nissan and Toyota have decreased this year, according to the city.

The data also shows that auto insurance theft claims for Hyundai and Kia vehicles nearly doubled from 2015-2019 compared to other manufacturers' models during the same period.

Two major U.S. insurers have even stopped offering new policies on Kia and Hyundai vehicles for those years.

Latest actions

Since the TikTok challenge began, both Kia and Hyundai have made immobilizers standard on all vehicles built after November 2021.

In February, both automakers released free anti-theft software upgrades for the 8.3 million Kia and Hyundai vehicles that lack anti-theft devices on the road.

In April, more than a dozen U.S. state attorneys general signed a letter asking the National Highway Traffic Safety Administration to force automakers to force or voluntarily recall all affected vehicles for safety issues.

Last month, Kia and Hyundai agreed to settle a class action lawsuit filed in California for $200 million to cover consumer losses caused by the theft.

Kia said it is working with New York City law enforcement to combat auto theft, but also called New York City's lawsuit baseless.