Instagram users worldwide and the Instagram account with the most followers in 2023
Instagram is a photo-sharing social networking service that allows users to take photos and edit them using filters. The platform allows users to post and share their images online and directly with their friends and followers on social networks.

One of Instagram's most popular features is stories. Users can post photos and videos to their story streams, and content is available for others to view for 24 hours before disappearing. in January 2019, the company reported 500 million active Instagram Stories users per day.

Instagram Stories competes directly with Snapchat, another photo-sharing app initially known for its "vanishing photos" feature. As of Q2 2021, Snapchat had 293 million daily active users.

Instagram Users

With approximately 1 billion monthly active users, Instagram is one of the world's most popular social networks. The social photo-sharing app is particularly popular in India and the U.S., which have 201 million and 157 million Instagram users, respectively. In the U.S., the number of Instagram users is expected to exceed 120 million MAUs by 2023.

Instagram's audience is primarily young.

Instagram is also one of the most popular social media outlets for teens and one of the most influential social networks among U.S. teens, according to data from fall 2020.

As of January 2023, nearly 31 percent of the global Instagram audience is between the ages of 18 and 24, and 30.3 percent of users are between the ages of 25 and 34. Overall, 15.7% of users are in the 35 to 44 age group.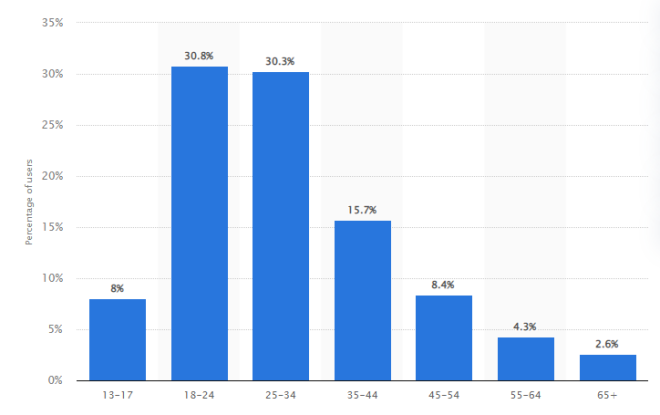 Celebrity Influencers on Instagram

As of January 2023, Cristiano Ronaldo has one of the most popular Instagram accounts. The Portuguese soccer player is the most followed person on the photo-sharing app platform, with 539 million followers, and Instagram's own account is number one, with about 600 million followers.

Many celebrities and athletes are brand advocates and generate additional revenue through social media advertising and sponsored content. Unsurprisingly, Cristiano is again ranked number one, with an average media value of $985,441 for one of his Instagram posts.