How to use Instagram Insights?
Related: How to get access to Instagram Insights?

Instagram Insights is a fantastic tool, but it can be hard to know what to do once you gain access. Here are some of the most useful ways you can use Insights as you grow your Instagram profile. 

1. Measure reach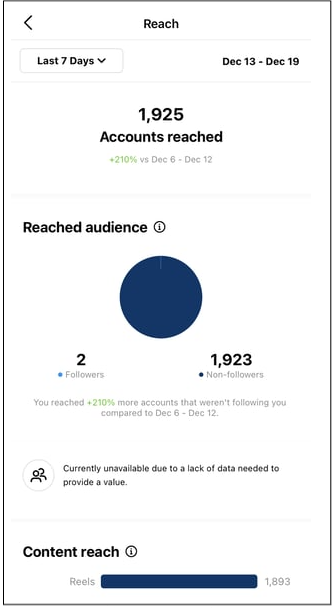 Click the Accounts Reached section. Reach reflects the number of unique users that have seen any of your Instagram posts.

Within this category, you'll see insights for:

· Top Posts: The posts that generated the most reach.

· Top Stories: The Instagram Stories posts that generated the most reach.

· Top IGTV Videos: The IGTV videos that generated the most reach.

· Impressions: How many times your posts were seen.

· Profile Activity: Profile visits, website taps, and other activity.

Some of these insights can be expanded for more insights.

2. Track profile visits and followers

On the Accounts Reached page under Account Activity, you'll be able to see Profile Visits.

Profile Visits reflects the number of times your profile has been viewed.

Find out how many of your profile visitors are turning into followers by dividing your number followers by the number of visitors. Track this number over time to find out whether your "conversion rate" is increasing or decreasing.

3. Determine website clicks

Website Taps can also be found under Accounts Reached > Profile Activity. This insight reflects the number of times any links you've included in your business profile have been clicked.

4. Track content interactions

Navigate back to Insights Overview and tap Accounts Engaged. This will bring up a page that shows how your content is performing in terms of engagement, breaking down the metrics by content type.

Likes speaks for itself, reflecting the number of users who liked your post. As with likes, Comments reflects the number of comments left on your post. Saves highlights the number of unique users or accounts who saved your post. If any of these numbers are low, it's important to reevaluate your Instagram strategy.

5. Track your followers

Navigate back to Insights Overview and click Total Followers. You'll then reach the Follower Breakdown page.

This page reflects how many followers you've gained or lost over the past week, as well as the average times of day when your followers are using Instagram — data that can be highly beneficial when planning posts.

6. Learn which actions were taken on your post

To view insights for a specific Instagram post, start by visiting your profile. Tap on the post you'd like to look into, then click View Insights below the image

Under the "Profile Activity" section, you'll find out the number of actions that users took on your profile as a result of seeing your post — things like visiting your profile, then taking an action like clicking on your website link or following you.

7. Use "Reach" to see where your post showed up in feeds

Previously named "Discovery," Reach indicates where your post was seen - or discovered - the most, including how many accounts weren't already following you when they first saw the post.

This section includes metrics on Impressions, which reflect the number of times your post was discovered from a particular place within Instagram, like the user's home feed, a search, your profile, a location tag, or a hashtag.

Reach insights also include data on a post's reach — which reflects the number of unique accounts that saw your post.

8. View Story insights

Instagram users with a business profile are able to view insights into their ephemeral Stories.

To view your Story insights, navigate back to Insights and scroll down to Content You Shared section on the Insights Overview page.

Scroll down to the Stories section, and you'll be able to see insights for older stories, as well as any that have not yet expired.