How to fetch the first publisher of videos on YouTube?
YouTube is currently the world's largest video search and sharing platform. It was established in the United States on February 14, 2005. YouTube issued the slogan "Broadcast Yourself", allowing users to upload, watch, share and comment on videos. It is not only a video platform, but also a search engine, which is owned by Google and is the second most visited website after Google Search.
YouTube has three main video types: videos, shorts, and live. Videos are YouTube's traditional long-form content, while shorts are within 15 seconds, and the longest will not exceed 1 minute. It can be said that shorts are very similar to TikTok, providing YouTube users with a new way to create and watch videos. And live are the livestreams of past, current and upcoming.
YouTube has a very large number of active users. When we browse Twitter or Facebook, we can often see videos quoted from YouTube. If you intend to trace the source of the video, and who is the first publisher of it, it is recommended to use Knowlesys Intelligence System(KIS), the intelligence monitoring system. Inputting the video URL into the system, within a short time, it will fetch the first publish time of this video and the earliest and latest references to it. It can be easily and quickly extracted even if the video was from 13 years ago. It can also be applied in tracking any terrorist campaign to spot relevant mentions in real-time and trace their origin.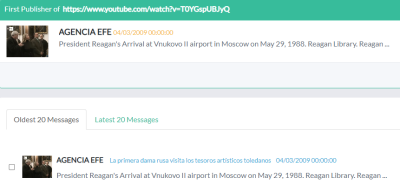 Knowlesys Intelligence System is developed based the world's leading open source intelligence extraction technology, with the advantages of quick identification and full coverage. It enables users to monitor the whole Internet, including social media(Twitter, Facebook, YouTube, Instagram...), traditional websites (Forum, Chat Room, News...) and dark web in a timely manner.