Common applications of Twitter sentiment analysis
1. Social Media Monitoring

Social media is probably one of the most effective ways to reach potential customers and retain existing ones. Excellent customer reviews and posts on social media enable other customers to buy from the company. On the other hand, bad reviews can be one of the most harmful advertisements.

Research by Convergys Corp. confirms that one negative review on YouTube, Twitter or Facebook can cost a company more than 30 customers.

Twitter sentiment analysis allows you to track comments about your products or services on social media and can help you spot angry customers or negative mentions before they escalate.

At the same time, Twitter sentiment analysis can provide valuable insights to drive decisions. What do customers like about your brand? Which aspects get the most negative mentions?

Using Twitter for aspect-based sentiment analysis can show you which aspects of your business need improvement and what makes you stand out from your competitors.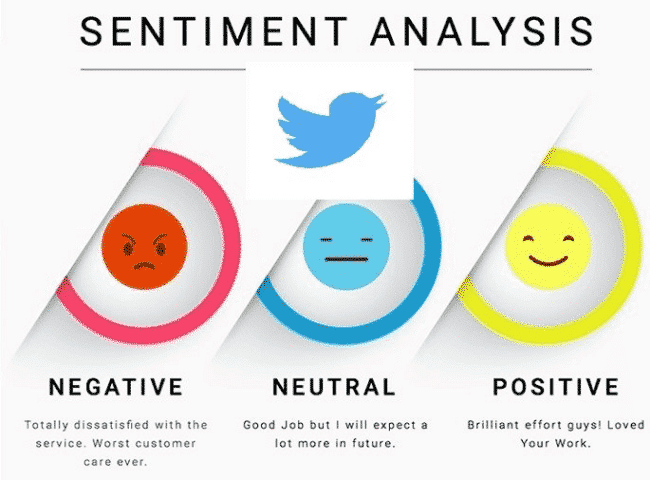 2. Customer Service

The presence of customer service agents on Twitter is becoming increasingly important. They need to interact with customers and respond quickly to customer queries: six in ten users expect brands to respond to any customer service request within one hour.

But how can you detect which support queries are the most urgent? Twitter sentiment analysis allows you to track and analyze all interactions between your brand and your customers, so you can ensure that you respond to the most critical issues first.

3. Market Research

Sentiment analysis can help companies identify new trends, analyze competitors and test emerging markets.

Twitter is a major source of consumer insight. In fact, people use it to express a wide range of feelings, observations, beliefs and opinions on a variety of topics.

Companies can use Twitter sentiment analysis to track specific keywords and topics to detect customer trends and interests.

Companies may also need to analyze the scores of competitors' comments. Using sentiment analysis to evaluate this information can help identify what customers like or dislike about a competitor, keeping the company one step ahead of the competition.

4. Brand monitoring

Whether you're launching a new feature on the platform, a website redesign or a new marketing campaign, you may want to track customer response on Twitter.

Taking action and making changes or improvements in real time will help maintain customer loyalty and even help promote your new features.

5. Political Campaigns

A large part of the Twitter conversation revolves around news and politics. This makes it a great place to gauge public opinion, especially during campaigns, and Twitter sentiment analysis can provide interesting insights into how people feel about a particular candidate (you can even track sentiment over time to see how it evolves).