WhatsApp active user analysis
WhatsApp is a cross-platform smartphone instant messaging service that relies on the Internet to transmit messages. Based on a low-cost subscription model, WhatsApp is an inexpensive alternative to sending carrier-paid text messages via SMS and is particularly suitable for international or group messaging. WhatsApp allows users to send text and voice messages, and offers voice and video calling capabilities.

WhatsApp is one of the world's most popular mobile messaging apps and was acquired by Facebook for $19 billion in February 2014.

In the U.S., WhatsApp's audience reached 68.1 million users in 2019 and will grow to 85.8 million by 2023.

WhatsApp is particularly popular in markets outside the US, while facing stiff competition from Asian social instant messaging apps such as WeChat, LINE or Kakaotalk.

As of March 2020, WhatsApp has 2 billion monthly active users, up from more than 1 billion monthly active users in February 2016.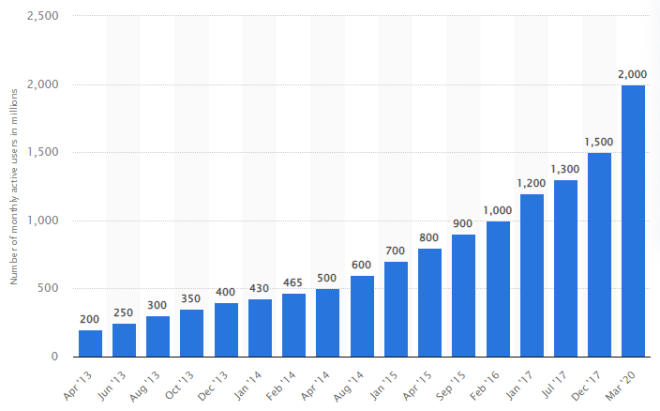 As of Q3 2020, 50% of WhatsApp users in the U.S. access the mobile messenger on a daily basis. Overall, 78 percent of responsive WhatsApp users claim they use the messaging platform weekly. By 2022, users worldwide will spend approximately 17 hours per month using WhatsApp.

WhatsApp is one of the most popular mobile messaging apps, but WhatsApp ranks behind Facebook Messenger in terms of U.S. audience reach. A total of 23 percent of U.S. Messenger users say they like WhatsApp, but 29 percent of the 79 percent of U.S. respondents who are aware of WhatsApp actually like the brand.