Snapchat open source intelligence investigation methods (1)
Snapchat is a multimedia instant messaging application and service whose main feature is "burn after reading". Users can use Snapchat to take photos, record videos, add text and drawings, and send them to their friends list on the app. These photos and videos are called " Snaps," and all photos have a life span of 1 to 10 seconds. After a user takes a photo and sends it to a friend, the photo is automatically destroyed on time, according to the user's pre-determined schedule.

Snapchat content can appear in a variety of formats that can provide investigators with useful information.

1. Search Snapchat by location

If the user has device-level location services turned on and selected, snaps will collect location data at various points in time during the user's Snapchat usage. However, users can keep and delete their location data in the application settings, which means that location data is not always available.

Snapmap is an official Snapchat map that enables the public to view publicly available geotagged snaps by embedded location. A publicly available snap is one in which the user has location data turned on on their device and has selected the location service in the Snapchat app settings. Investigators can use Snapmap to perform map/location-driven searches of public Snapchat content.

Investigators can manually move to any location in the world and view public snaps posted from any location by clicking on the location on the map.

Snapmap is a heat map that shows high-density areas of public snaps arranged by color, from low and blue to high and red.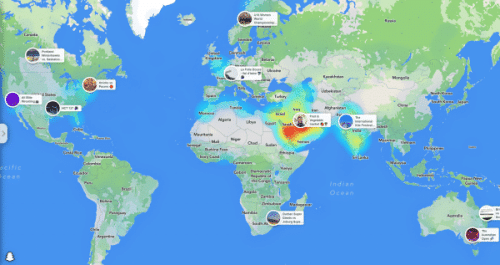 In addition to manually navigating to a location in Snapmap, you can also jump to a location using the URL action.

2. View recent public snaps of Snapchat users

Investigators can use the Snapchat URL to determine if an account is associated with a username and to view any recent public snaps made by that account.

To determine whether a username is valid and whether a Snapchat account is associated with it, enter the username into the Snapchat app search bar, which is located in the upper left corner of the app under the magnifying glass icon.

Or enter it into the following content URL, https://www.snapchat.com/add/username, replacing "username" with the target username.

3. Snapchat indexing sites

There are several sites that offer Snapchat users the ability to log in and register their sites. Most of them are focused on dating.

They offer the opportunity to search their database. And because users of these sites can provide additional information there (such as their gender, age, hobbies, etc.), it might be interesting to see if usernames found on Snapchat pop up there as well.

Keep in mind that people who appear on these sites must register themselves. This is not a copy of the Snapchats database.

For example, Ghostcodes.com.