Market share of major U.S. social media sites in 2023
In March 2023, Facebook accounted for approximately 53% of all U.S. social media site visits, establishing itself as the leading social media site by far. Other social media platforms, despite their popularity, had to make do with the total number of visits using desktop, mobile and tablet devices.

Twitter ranked second with 16 percent of visits to U.S. social media sites, while Instagram accounted for 13.85 percent of total visits in the country.

In addition, according to early 2023 forecasts, social media users in China reached 1.02 billion in 2022 and are expected to reach 1.21 billion by 2027. India, with the second largest number of users, reaches 755 million social media users in 2022 and is projected to reach 1.17 billion by 2027. Overall, the U.S. has the third largest social networking audience, followed by Indonesia and Brazil.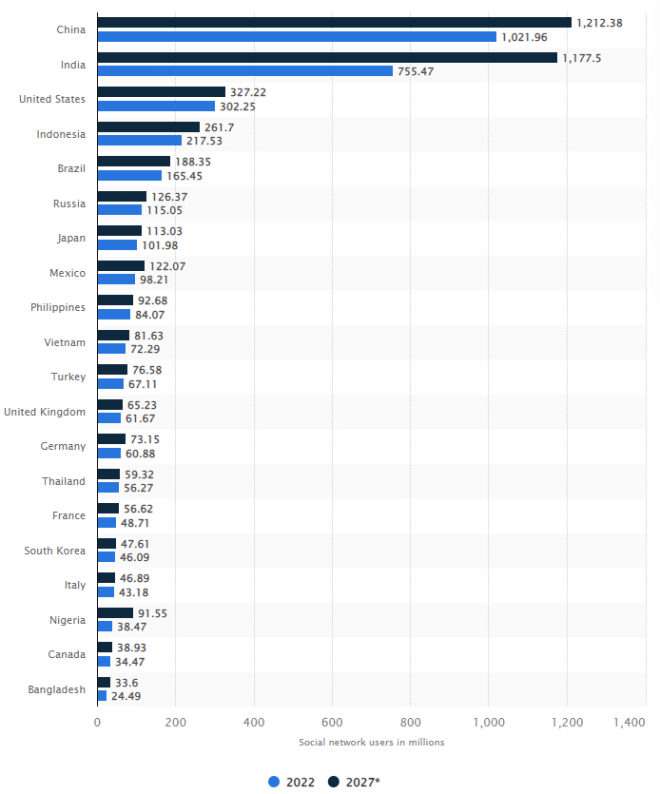 Facebook: Mobile and Desktop Usage

At the beginning of 2022, approximately 81% of Facebook users worldwide will use the platform's social networking services only through their cell phones, while only 1.5% of users report using a desktop or laptop device.

In October 2021, three Facebook Inc. products held the leading position as the most downloaded social networking apps in the U.S. Apple App Store.

Facebook's social media platform ranked first with nearly 2.5 million downloads, while Facebook's instant messaging services Messenger and WhatsApp followed with 2.1 million and 1.4 million downloads, respectively.

The Evolution of Social Media

Between 2012 and 2020, the amount of time users spend on social networks per day has increased globally, with users spending an average of 145 minutes per day in 2019 and maintaining the same level of engagement throughout 2020. However, since 2019, users' favorite platforms have shifted and the balance of power appears to be shifting further away from Facebook's market dominance. Not only is Facebook's user growth rate estimated to slow in the coming years, but users belonging to the Z generation seem to prefer video-first social platforms like Snapchat, TikTok and YouTube.