LockBit ransom gang launches another cyber attack
Cyber regulators report that the notorious Russian-linked ransomware company appears to be enjoying another cybercrime campaign, claiming 24 new victims in the same amount of time.

"Newark Academy in Livingstone, New Jersey marks LockBit's 24th post in 24 hours," ransomware watcher Dominic Alvieri announced on Twitter.

Shortly before that, Alvieri pointed to another cyberattack claimed by LockBit, which he called "a first" in the short but rapidly evolving history of ransomware crime.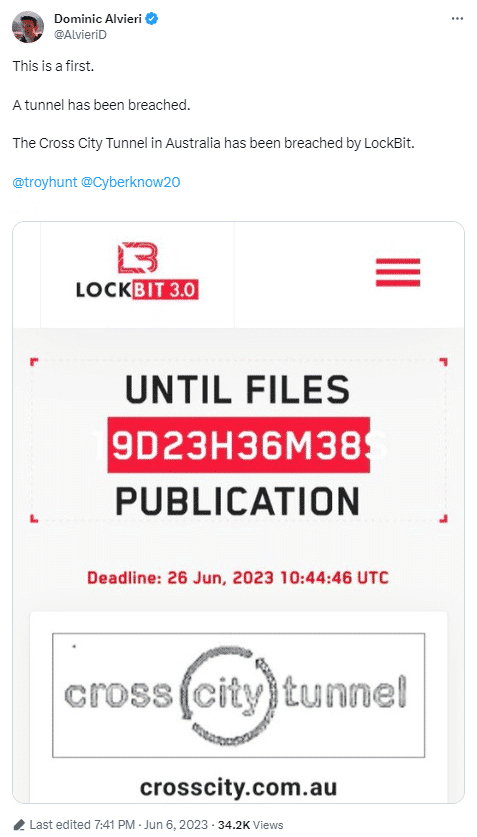 The Cross City Tunnel in Sydney, Australia, was also claimed as a victim by a group with ties to Russia, and a deadline of June 26 was set. This was presumably to get local officials to pay an unspecified ransom demand or risk the consequences.

Often these involve encrypting and releasing important data that the target organization relies on to operate or would prefer its competitors not to know. Newark College has a much tighter deadline for payment, June 23. Although cybercriminals are known to be flexible and willing to extend payment deadlines if negotiations stall.

Shortly before VX-Underground, another cybercrime analyst who regularly posts on Twitter, added Newark Academy to Alvieri's list, LockBit claimed 23 victims in one day.

Those targets included the Pittsburgh Unified School District in the United States and a medical center in Fredericksburg, Va. A municipality in Iceland was also listed as a victim by VX-Underground.

It is important to note that ransomware attackers sometimes make unconfirmed victim statements.