How to tag everyone in a Facebook Group?
Facebook now includes a powerful feature for group administrators to tag all members at once using a single tag. While useful, this feature should be used with caution. If you find it annoying, you can also disable it on your personal account.

1. How to tag everyone in a Facebook group with a tag?

You can use the @everyone tag to mention each member of the Facebook group you manage. Simply start a new update, then start typing @everyone and select the tag from the autocomplete menu that appears. If you don't see the @everyone tag appear when you start typing, you won't be able to use it.

The @everyone tag is also available elsewhere, such as in comments on posts and as a tag in photos posted in your group. This applies to Facebook's mobile app and the Facebook website. You can use the @everyone tag once a day for each group.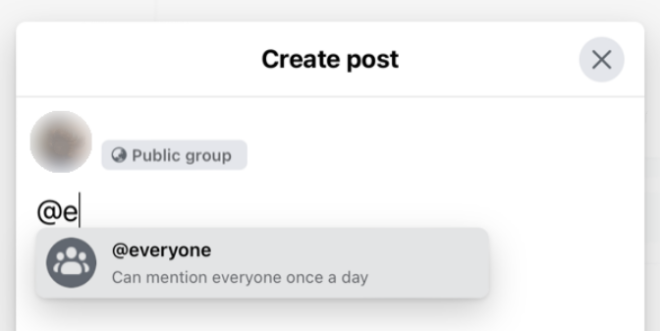 You can place the @everyone tag anywhere in your message and get the same result. Group members will receive a notification when you click Send on a post, comment, or photo upload. This will appear in the Facebook notifications feed and will also show up as a push notification on mobile devices if the member has notifications enabled.

2. Please use the @everyone tag with caution

When group members receive notifications using the @everyone tag, it's as if they've been tagged as individuals. The notification appears as "Group member mentioned you and others in a comment..." or "Group member tagged you and others in a photo...", which will get their attention in push notifications.

However, using this feature to send frequent spam can cause anger among Facebook users. So it's best to use it carefully to announce important changes or breaking news. Just because you can use it once a day doesn't mean you should.

3. How to disable the @everyone Facebook tag?

Have you been on the receiving end of @everyone tag abuse? You can disable this feature on your personal account.

Access your Facebook settings on your phone by clicking the hamburger menu button and then clicking the "cog" icon.

In your web browser, click your profile picture in the upper right corner of the page, then click Settings & Privacy > Settings.

Select "Notifications" or "Notification Settings" depending on which you see, then select the "Tags" sub-menu. Set "Get notifications when you're tagged by" to "Friends of Friends" or just "Friends" and then you'll be able to disable the "Batch @everyone mentions" below.