Free Twitter Tools to Send Automated Direct Messages
In fact, Twitter is an excellent marketing tool.

You can send direct messages (DM) to your followers about your blog or new services and it won't be considered spam, as long as you do it right and only send useful links.

In addition, Twitter has removed the 280-character limit from direct messages. This means that there is no character limit for direct messages.

Next, we'll share with you some useful Twitter tools for sending automated direct messages and sending direct messages in bulk.

1. CrowdFire

CrowdFire is a free website for sending Twitter Auto DMs to new followers. it will let you specify an automated message that will be sent to your new Twitter followers. After that, it will automatically send the specified message to your new followers.

Note that it will add "via @crowdfire" after each automated DM in the free plan. If you feel comfortable with this, then you can continue to use it to send automated DMs to your new followers.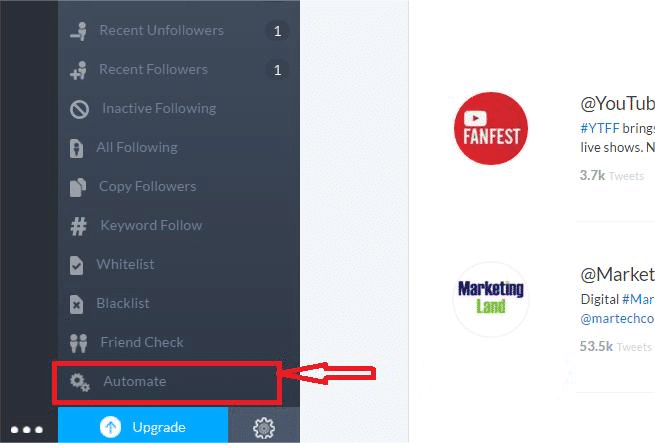 URL: https://www.crowdfireapp.com/

2. SocialOopmh

SocialOopmh is a tool that helps you be more productive by sending automated direct messages.

Here are the steps you need to follow to configure automatic Twitter DMs through SocialOomph.

After upgrading your account, go to your SocialOomph dashboard and click Following > Follow-Back & Auto-Welcome.

Click "Configure" to configure any profiles you have connected.

You can configure the messages that should be sent, and then this message is automatically sent to the new follower.

URL: https://www.socialoomph.com/

3. Tweet Hunter

Tweet Hunter allows you to send automatic DMs to anyone who has interacted with your tweets.

Unlike other spam options that used to let you send automatic DMs to everyone, this option is based on interaction. In this feature, you can decide whether to send Auto DMs to users who have liked, retweeted or commented on your recent tweets.

Here is how to use this feature:

- Login to Tweet Hunter using your Twitter profile

- Click on write a tweet from the left panel

- Start writing your tweet in the right panel, and click on advanced options

- And here, you can configure the settings for sending automated DM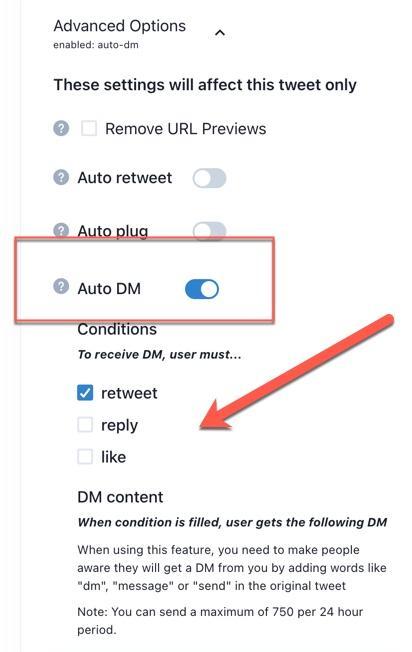 URL: https://tweethunter.io/

Important things to note before sending a Twitter DM:

- You can send a private message to anyone who follows you on Twitter.

- You can reply to anyone who sends you a DM, whether they follow you or not.

- There is no character limit on Twitter DMs.

- Use Twitter DMs to build connections/relationships, not to try to sell something.

- Try not to send the first DM with a link, as it reduces trust.