Differences between Instagram reels and TikTok
Instagram reels and TikTok are very popular ways to watch entertaining short videos. Although they work in similar ways and offer similar content, there are many differences between the two platforms. Many users may not be aware of these differences, no matter how big or small. This article will discuss everything you need to know about Instagram reels vs. TikTok.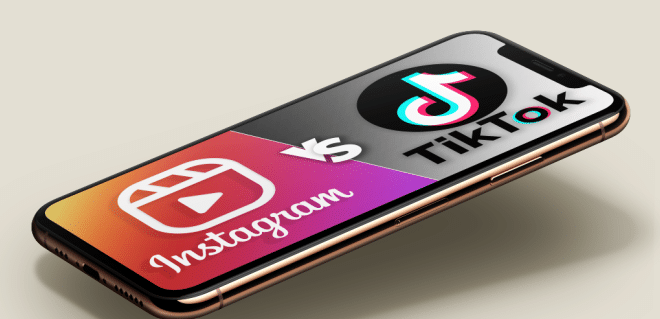 Instagram Reel vs. TikTok

1. Video length

The maximum length of a video on TikTok is 3 minutes, while the video limit on Instagram Reels is 60 seconds. Users are eager to point out this major difference because until recently, the maximum video length on TikTok was 15 seconds.

Instagram reels have a 60-second limit, which can be limiting depending on the specific content you want to upload.

While TikTok's timestamps may favor longer material, Reels still allow you to be creative.

2. Editing

TikTok and Instagram Reels have completely different editing interfaces.

Filters are very popular on TikTok due to the wide variety of effects and themes available.

However, Instagram offers only a limited variety of options and effects in its effects library.

TikTok's voice effects and out-of-frame features are also enjoyable for all users.

Currently, users can only record their own movies or upload content from their camera rolls on Instagram reels and do not have access to features such as Duet or Stitch.

3. Algorithm

TikTok's algorithm was a mystery for a long time, until it was officially revealed to users. In contrast to Instagram Reels' Explore page, TikTok's For You Page is tailored to your specific interests.

When you're a first-time user of TikTok, the algorithm recommends material by rating videos based on criteria, starting with the likes you gave as a new user and adjusting for items you said you weren't interested in.

The algorithm takes many factors into account. Interaction with other users may take many forms, from videos you like or share, to accounts you follow, to comments you leave. The video's metadata includes information such as the video's subtitles, sound effects, and topic tags. Your language options, country settings, and device type are included in your device and account settings.

TikTok's For You Page takes all of these factors into account to provide users with the best recommended videos, making each page personalized for each user.

The Instagram Reels algorithm is not yet as well-defined as TikTok's. On the Instagram Reels Explore page, it's not obvious whether the material you get depends on your location or the content you're interested in.

You will be notified if your Reel appears in Explore, and Instagram has selected several public scrolls to help you discover new and unique material that it hopes will entertain and inspire you. There is no further explanation as to why or how Instagram chooses what to highlight. However, if your Reel is recommended, your video and profile may go viral.

The more videos you share on your Instagram reel, the more likely your material will appear on the Explore page, just as it does on TikTok.

4. The opportunity to go viral

If you're a business or brand on Instagram, you probably have an Instagram store, highlights in your stories, and plenty of material in motion. Making your Instagram reel go viral means you're exposing your business to a large number of potential customers.

Instagram Reels are a great way to get more Instagram followers without leaving the app.

5. Content

While both TikTok and Instagram Reels contain the same types of videos, TikTok's customers seem to be younger.

On the reels, brands, companies and influencers are increasingly discerning and share material that is consistent with their corporate image. TikTok users, on the other hand, are less concerned with how their streams are displayed.

Instagram Reels are a great option if you want to share movies with a broader demographic and maintain a consistent brand image across social media platforms. TikTok may also be a better option if you want to target a younger Generation Z audience by engaging with the viral phenomenon.

6. Music

Music is one of the most significant differences across platforms. Many corporate accounts on Instagram Reels are now unable to use Instagram's music feature.

If you want to post a reel with music on your corporate account, you must record and edit your own audio or video outside of Instagram. instagram has not yet commented on whether corporate accounts will be able to use the music feature anytime soon.

7. Advertising

While small companies do not use TikTok ads as often as other social media platforms, they do offer paid advertising options. Branded hashtag challenges, branded effects and infomercials are currently available on TikTok.

Currently, sponsored ads are not available on Instagram Reels, but marketers may work with influencers and artists to produce branded content. To ensure producers make a clear statement when creating promotional materials, Instagram has just added branded content tags to Instagram Reels.

TikTok is not far behind Instagram when it comes to e-commerce, and to help Shopify's more than one million merchants reach TikTok's young audience and generate sales, TikTok has just announced its first partnership with Shopify.

Infomercial shopping video ads on TikTok will be available to retailers who have access to the program, enabling them to sell products on TikTok.

It doesn't get any better than that. From ad creation to targeting to optimization and monitoring, everything is done through Shopify's dashboard. Brands and businesses involved in the product selling industry should take note. Read about the relationship between Shopify and TikTok here.

Instagram reels vs. TikTok - which is better?

TikTok is undoubtedly the best platform for making short videos. Reels are obviously Instagram's attempt to recapture its audience, but they are also a valuable feature worth utilizing.

TikTok is a great place to learn about the future of entertainment in terms of compelling moving images.

If you're looking for new ways to increase your Instagram followers, check out Reels, an app that lets you create short videos to enhance your brand's message. Don't forget, if you're just getting started with TikTok, you can use Reels to link your Instagram account to your TikTok account.