What is the county with the most Snapchat users?
India has the largest Snapchat user base in the world with an audience of 182.35 million as of April 2023.

The United States ranks second with a Snapchat audience of more than 108 million users. By 2024, Snapchat is expected to reach nearly 400 million global users.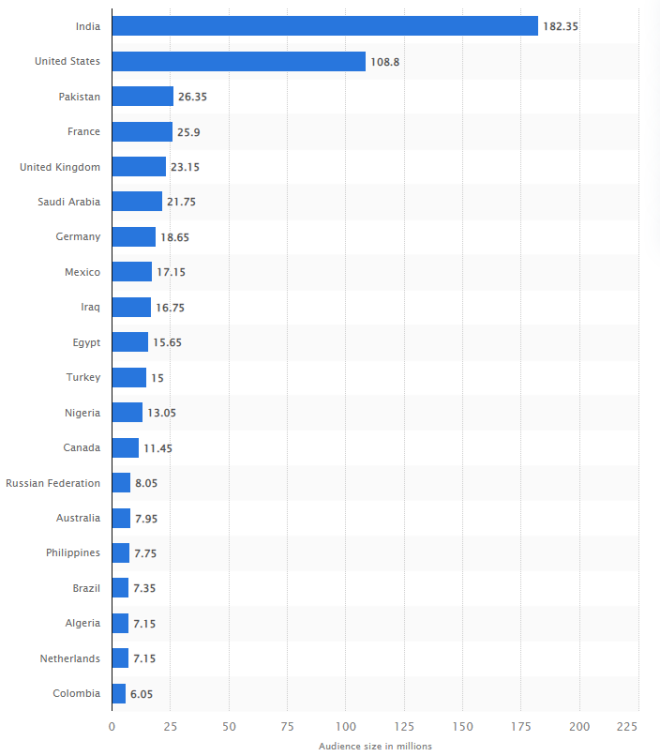 Snapchat's popularity

As of January 2023, one-fifth of Snapchat users are men between the ages of 18 and 24. Overall, 18.3 percent of users are women between the ages of 18 and 24. In addition, about 20 percent of users are between the ages of 13 and 17. This shows that Snapchat is particularly popular with younger online audiences.

Snapchat is an increasingly attractive platform for advertisers.

According to industry estimates, Snapchat's advertising revenue in 2019 is expected to exceed $2.6 billion by 2021, up from $1.53 billion in 2019.

Snapchat is a mobile-first social network, with the majority of visits coming from cell phones. According to U.S. Snapchat users, the main reason for using the platform is to stay in touch with friends and family.

Snapchat's vanishing photo sharing function has popularized the sharing of everyday photos in story streams, and this feature has been adopted by other photo and messaging applications such as Instagram, WhatsApp and Facebook Messenger.

Despite the competition, Snapchat users are among the most engaged - a total of 48 percent of U.S. Snapchat users post content to the app every week. Only WhatsApp and Facebook can boast a more active audience.